Top 6 Hotel Websites for Design Inspiration
Introduction
One of the most challenging and rewarding niches in web design is the hotel industry. Hotel websites need to showcase the best features of their properties, entice potential guests with appealing offers and promotions, and provide a seamless booking experience. High Quality Web Solutions designers team will take a look at some of the best hotel websites in the world and analyze what makes them stand out from the crowd.
Image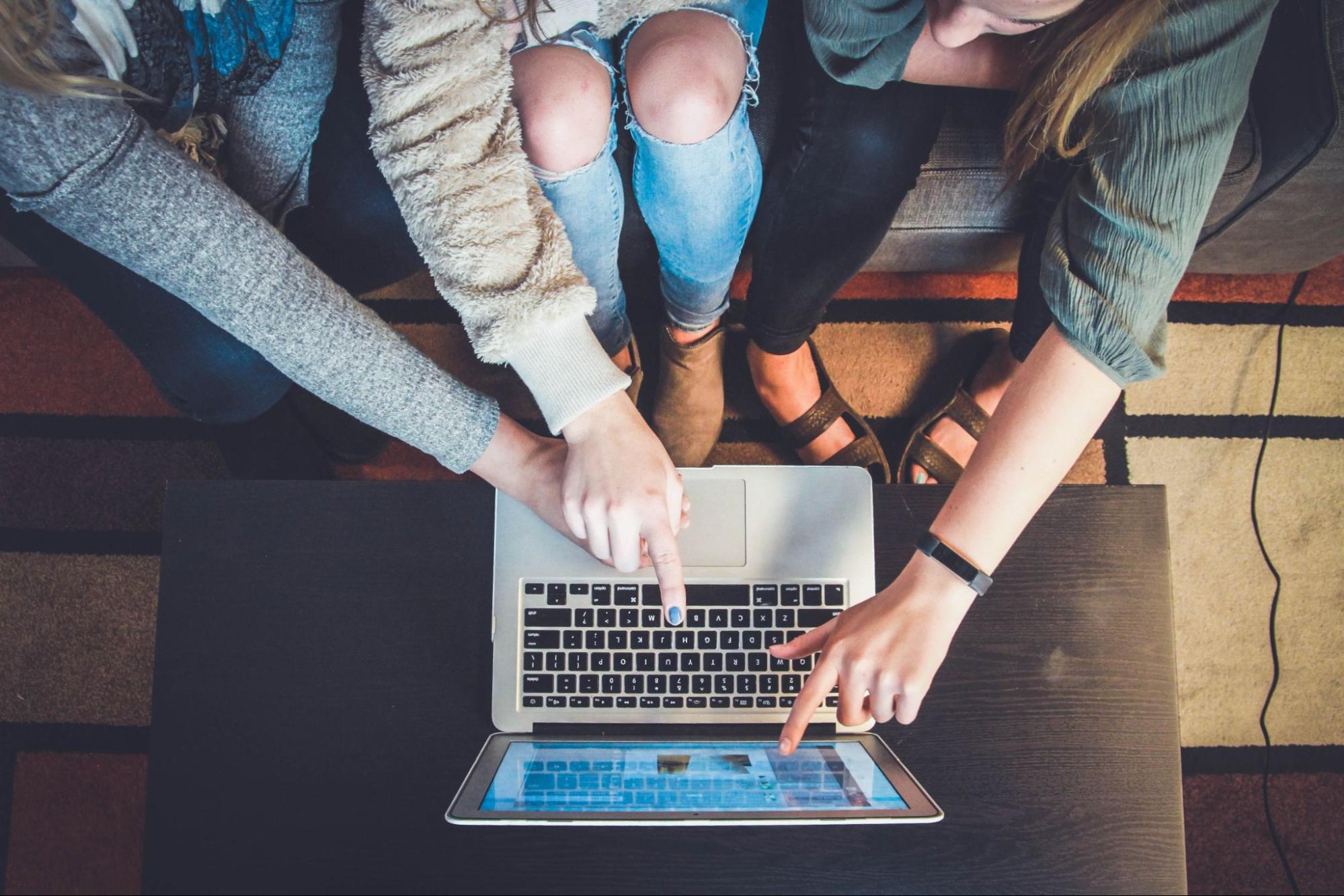 InterContinental Hotels Group (IHG) displays an exceptional website design. One of the main aspects that stand out is its user-friendly interface, with clear navigational buttons and an easy-to-use booking system. The minimalist design approach with bold typography and high-quality images creates an immersive experience for the user. IHG has brought out originality to its website by keeping it simple yet interactive, providing options for showcasing personalized content based on guests' preferences. The website uses advanced technology to offer a visually-appealing look at different hotels that encourage the guests to explore further. The website's design also employs micro-interactions to enhance the user's experience.
Image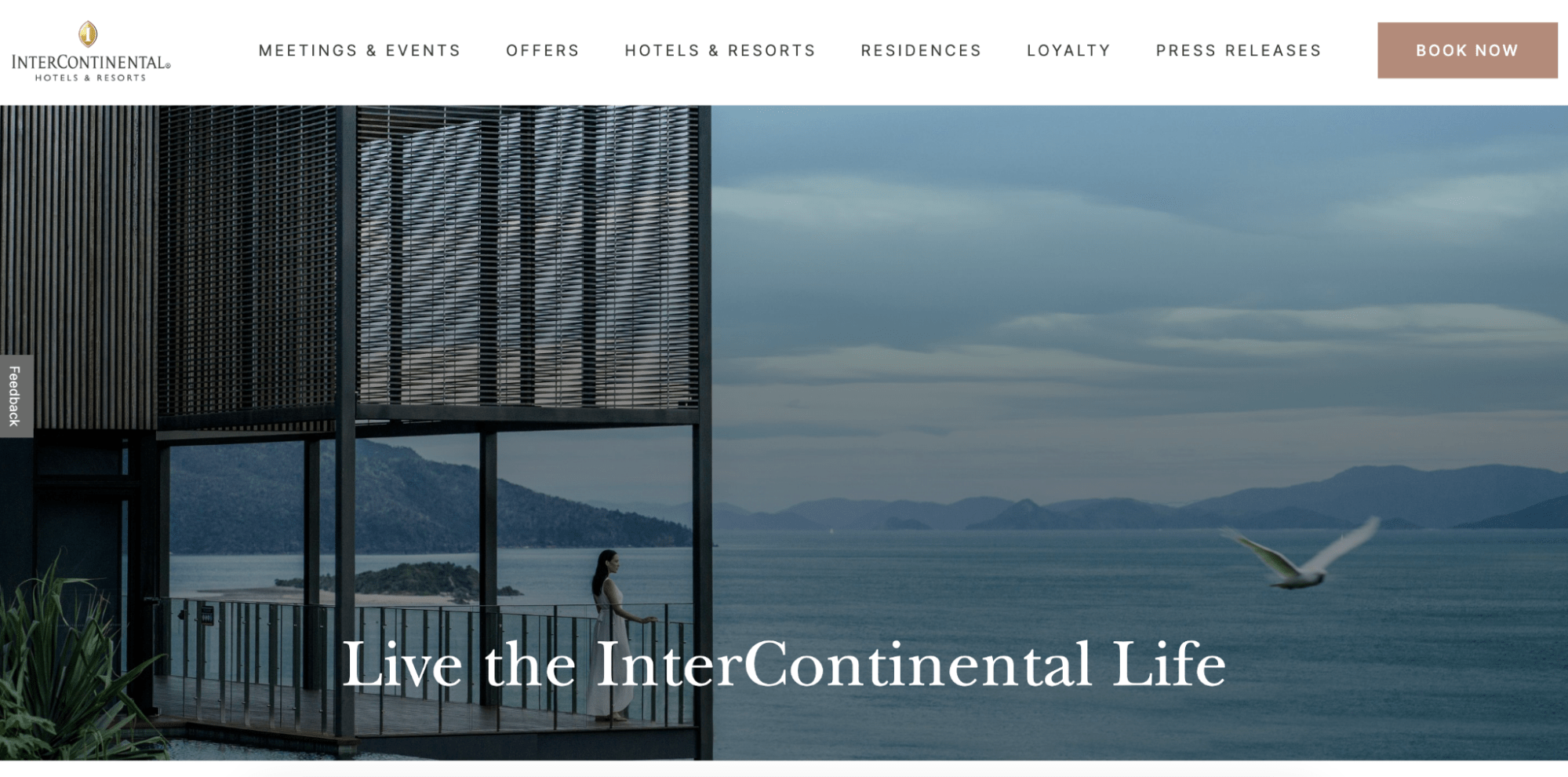 Next on our list is Kimpton Hotels. The website is designed to attract the user's attention with its striking photography and overall appealing visual aesthetics. The website uses a card-like design, with high-quality images for each hotel property. The layout is optimized for a seamless user experience with easy-to-read fonts and clear navigation. One of the most impressive design innovations in the Kimpton website is its navigation system which provides easy access to information through its menu and sub-menus, making it easy for users to navigate their stay while adding a touch of uniqueness.
Image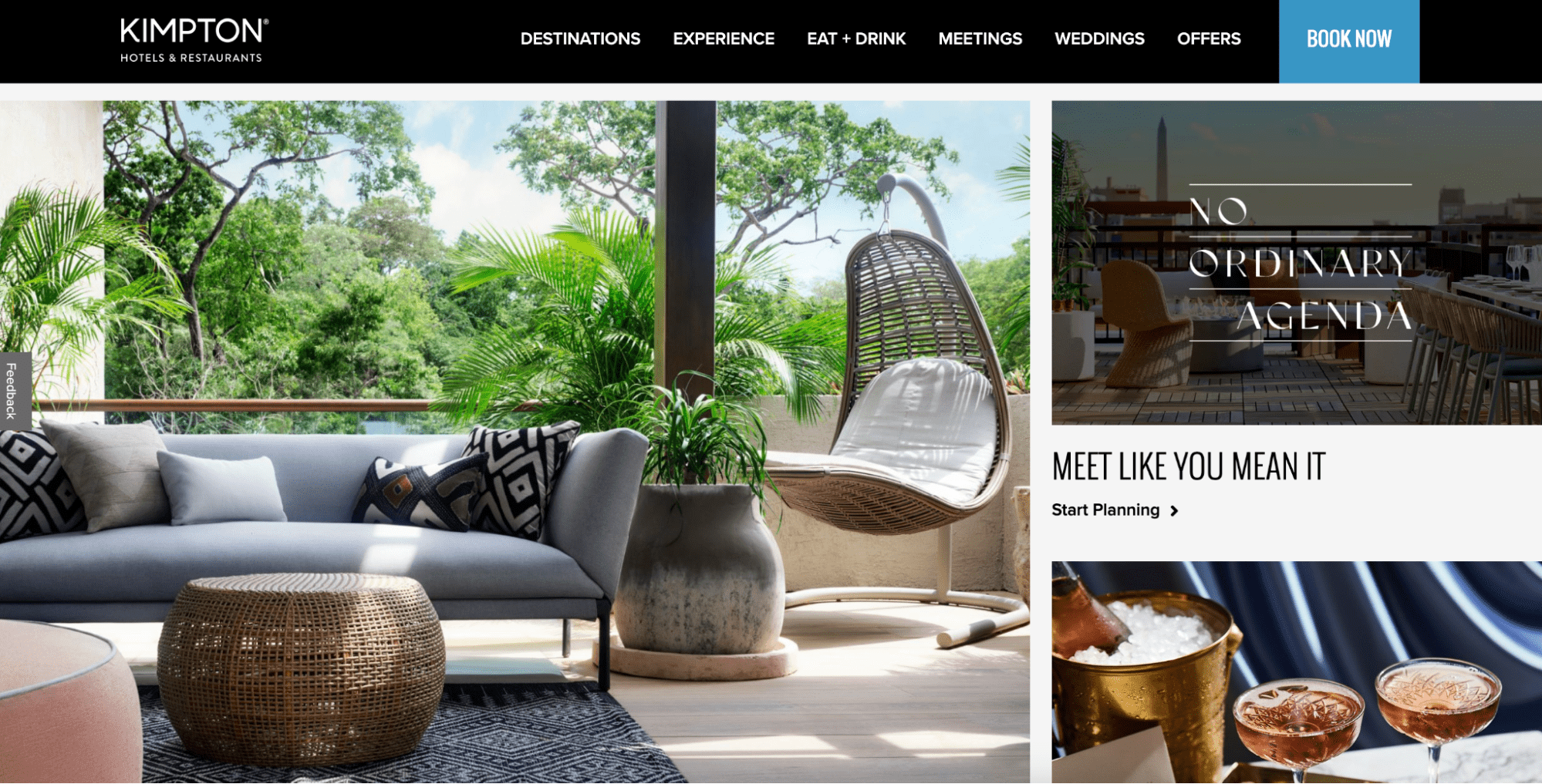 St. Regis Hotel is another well-designed website among popular luxury-hotel brand sites. With its black-and-white color scheme, the website evokes a sense of sophistication and elegance that aligns with the brand's values. The St.Regis website uses advanced technology to display the elegance of the hotels to the viewers on multiple levels. The homepage features a subtle slideshow, while web design provides users with the opportunity to take tours of the rooms, venues, and surrounding areas. By allowing their users the freedom to switch between various views of the hotel, the St. Regis website enables an immersive user experience. The website structure is well-organized, and the navigation system is easy to use, making it simple for visitors to find what they are looking for quickly.
Image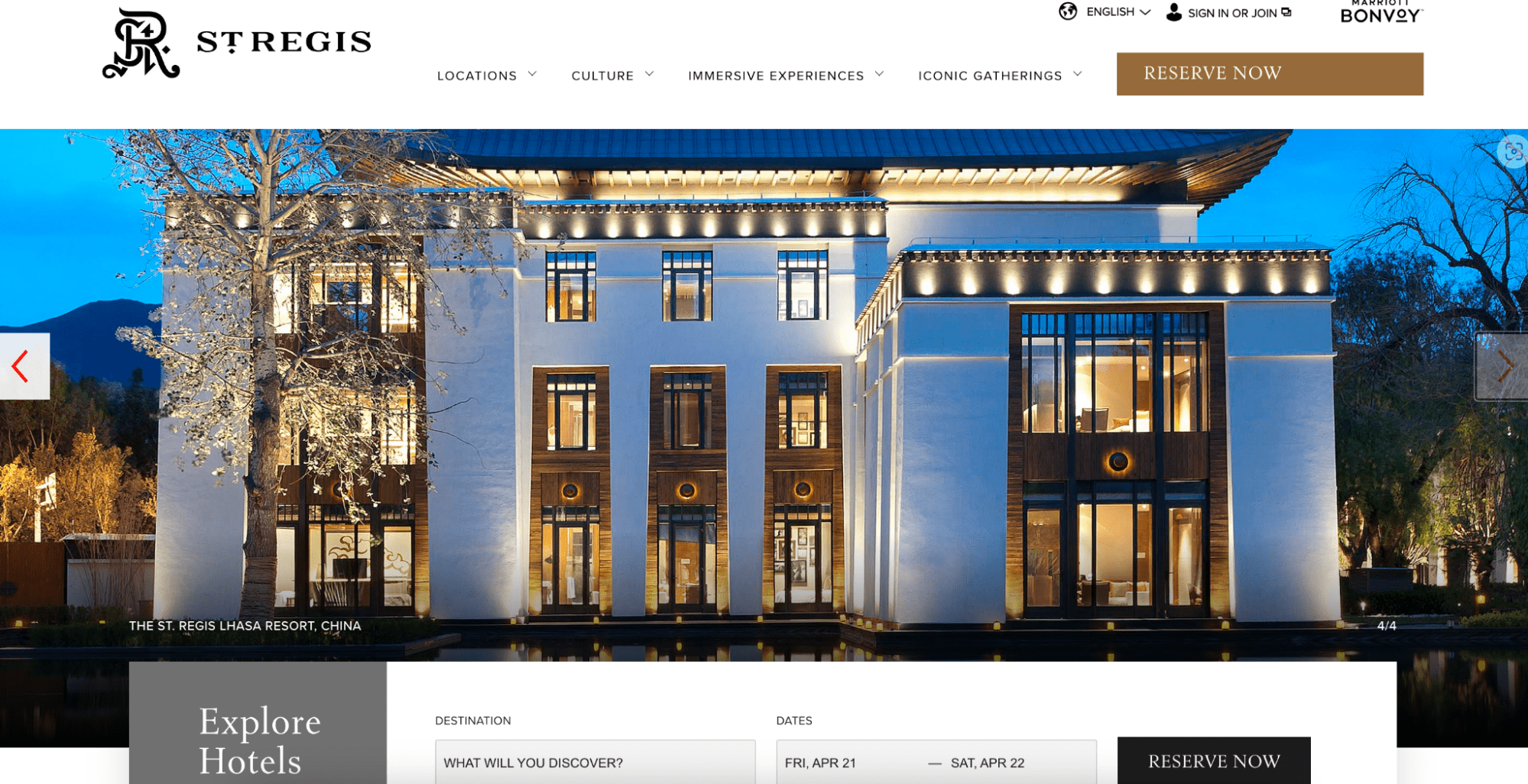 Hilton's website displays an exemplary design that is sleek, and simple yet aesthetically appealing. The website is intelligently designed with a focus on providing a seamless user experience. The website features an easy-to-use booking system, and users can easily access essential information. Hilton also uses interactive elements such as image hover effects, providing guests with a more personalized experience. One of the notable features of the Hilton website is its use of a simple system to find a hotel in the selected country with a convenient map and a list of available hotels.
Image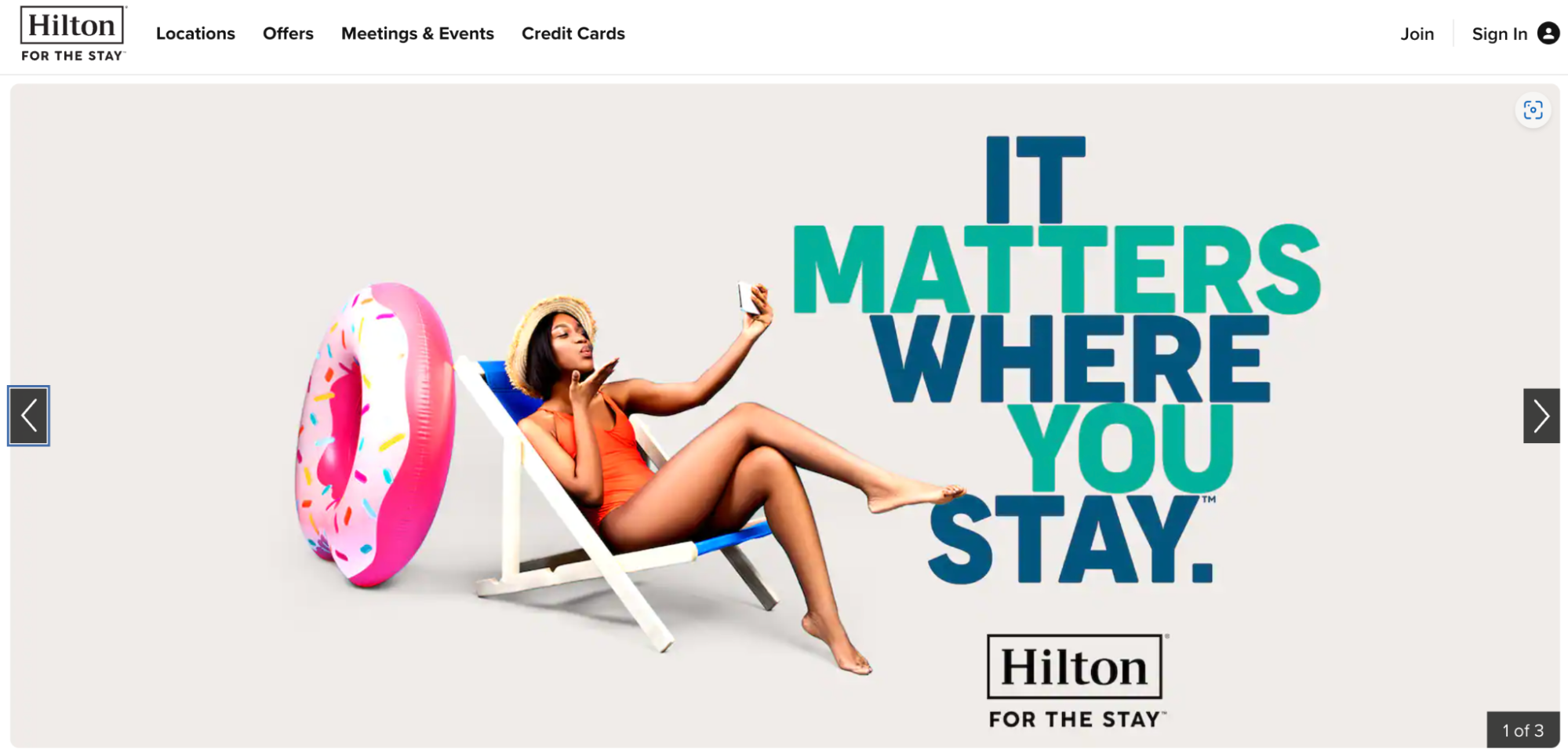 Hyatt Hotels has also managed to create an interactive & responsive website design that provides a smooth user experience. The website's design is visually striking with a clean and minimalist layout. It uses high-quality images centered & focused around properties, providing users with a comprehensive view of the hotel. Its strategically placed call-to-action buttons complement the content, allowing users to navigate the site effortlessly. Hyatt's website is also responsive, consisting of an animated layout design that works well on both mobile and desktop, making it a better user experience for customers.
Image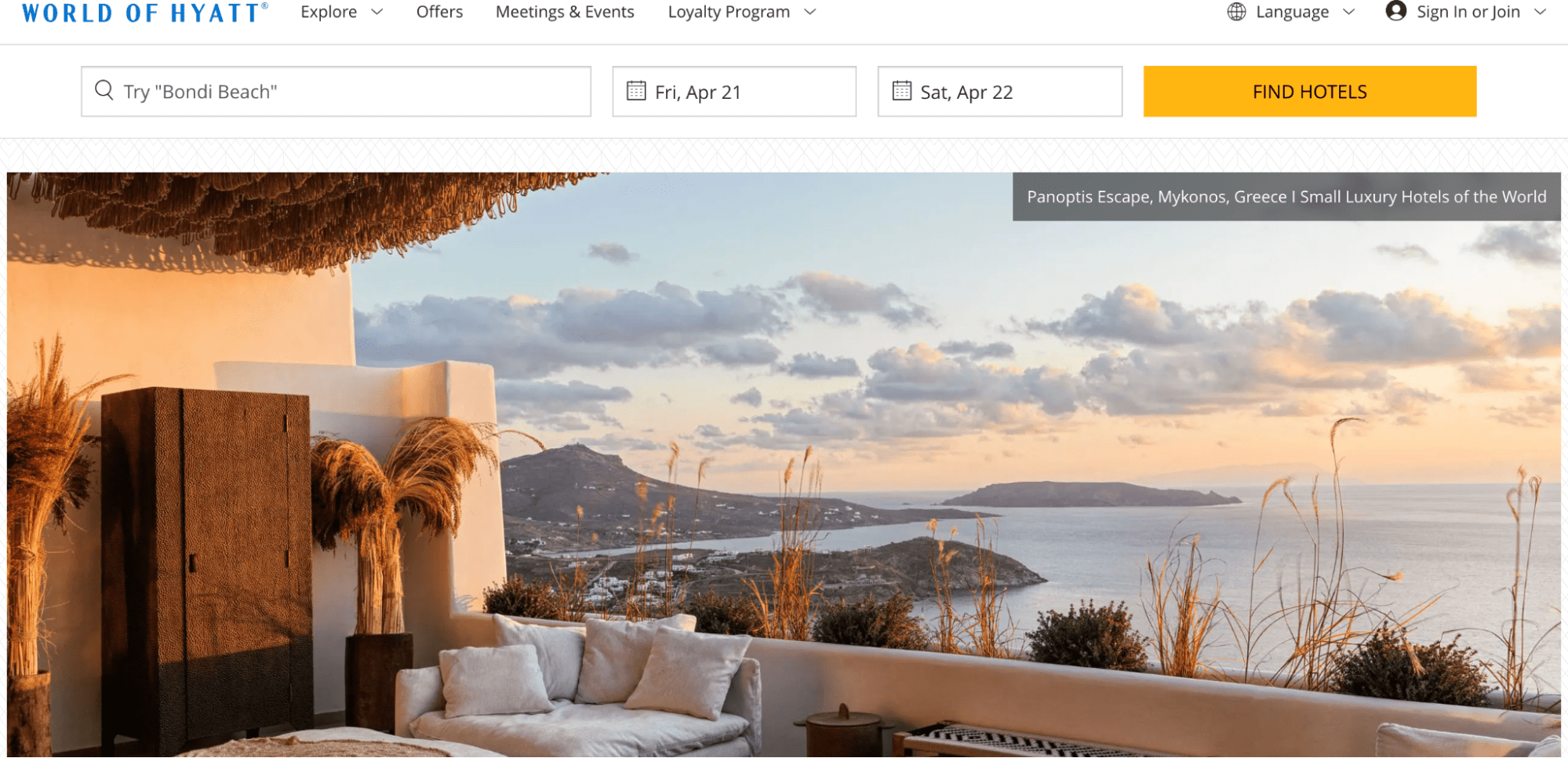 Finally, the Marriott Vacation Club website is noteworthy in its fantastic design. The website features a more traditional, yet modern look and feel. Marriott's website complements its brand by using high-quality images, vibrant colors, and a clear layout. The website uses various interactive elements without being overwhelming for the users. One of the creative elements in the website design is displaying an overview of the different vacation options available, which makes it convenient for customers to quickly identify the best option for them. Overall, Marriott Vacation Club manages to execute an excellent design that offers users simplicity, while retaining the modern flair of a luxury vacation experience.
Image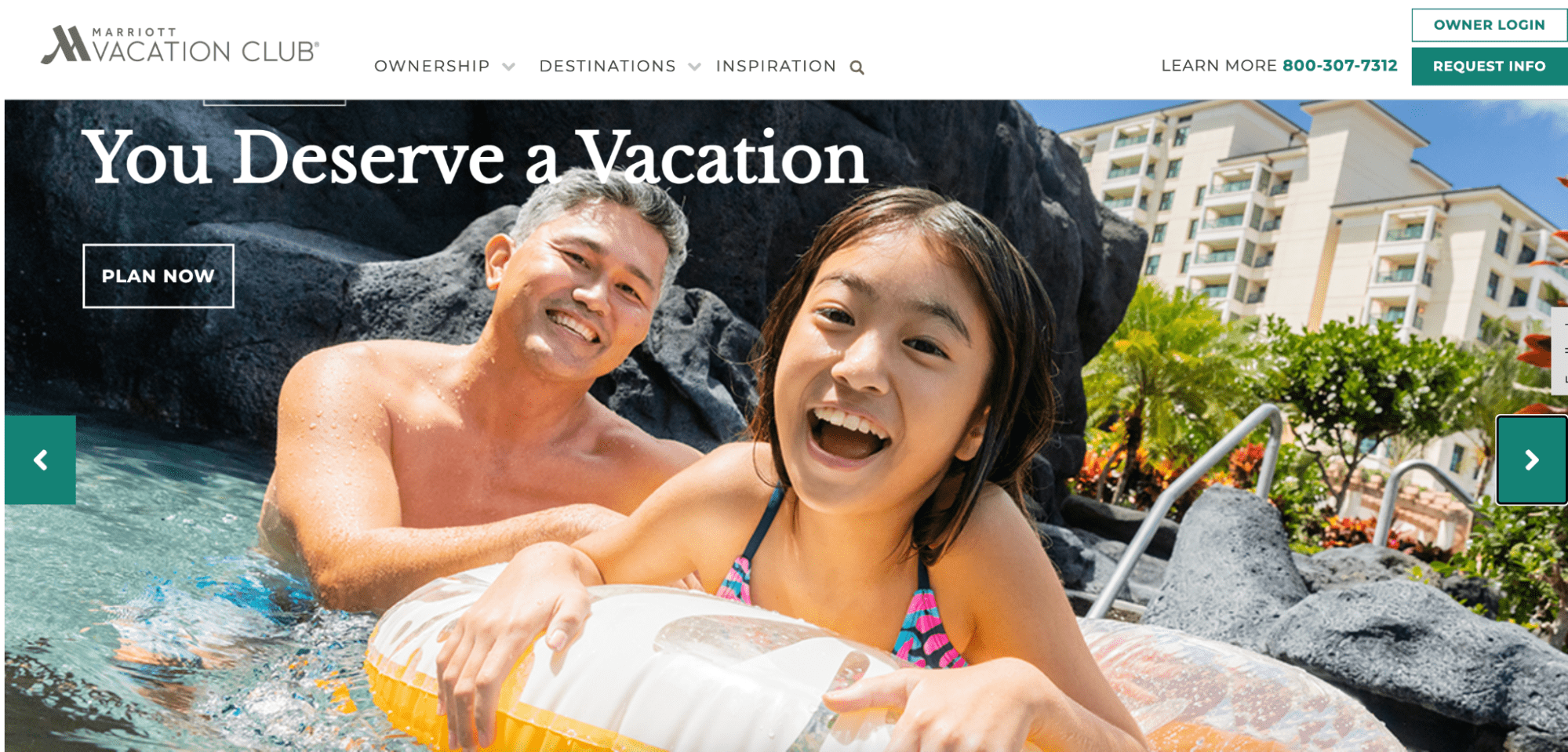 These websites are great at providing a positive user experience
These websites are great at providing a positive user experience. They're easy to use, have good design and content, and are generally user-friendly.
A well-designed website makes it easy for users to find what they're looking for quickly. The navigation should be obvious without being too busy or distracting. The site should be clear about what you can do on the site and how much money it will cost you if you want to make an online reservation through them (or book directly with the hotel).
Good content provides useful information in an interesting way that engages readers and hopefully brings them back for repeat bookings!
Conclusion
The websites listed above are great examples of how hotels can create a positive user experience. They all have strong branding and design, which helps to make their site stand out from the competition. Each one has unique strengths that make it special. Overall though, these sites show us that it isn't just about what looks good on paper but rather how well those ideas translate into real-world usability!
Image

Anton Holovin